Social buttons on the Website and follow-up on Pleroma, Matrix and Peertube.
Banner of the month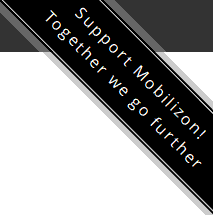 If you are browsing from a mobile device, you may not have seen it, but there is a banner displayed in the top-right corner of our web pages on medium and high screen resolutions. We are using this space to advertise on endeavours and projects of interest.
This month we (again) promote the e foundation and its main product, the FOSS mobile operating system /e/.
e foundation is a non-profit entity whose main goal is to provide an Android-like mobile operating system completely free of Google products

.
/e/ is a fork (ie derives from) of LineageOS, itself a fork of Android. LineageOS comes with several improvements over the stock versions of Android, and is free of all the usual useless and potentially dangerous apps shipped with a phone manufacturer or a service provider.
/e/ made some changes from LineageOS in the choice of default apps and behaviours, but the main change is the implementation of MicroG, a free and open-source implementation of Google APIs, required by many apps to work properly.
/e/ started with a crowd funding in 2017 initiated by Gael Duval, a FOSS enthusiast who is known for having created one of the first GNU/Linux distribution (Mandrake Linux). The /e/ project is still running at a fast pace, with frequent updates and quick feedbacks on the community forum.
Achievements
Nomagic website
The website went under a lot of editing, especially as we were preparing to announce the availability of Pleroma for our users, as we wanted to get clean, non-tracking social sharing button (visible at the bottom of the news!).
It turned out to be much harder than we expected, as there are actually very few snippets (small bit of code sampling a specific function) for the Fediverse available out there. We have hacked our way through using 2 particular pieces of code (ref. available on our credits page) and are planning to tidy things up and compile this in a future post on foss-notes.
Sharing links also meant URL preview. This too, took a fair amount of time to implement. We settled with the jekyll-seo-tag plugin, which automatically generates Open Graph meta tags for URL preview on social networks. Open Grap Protocol was originally created by Facebook, it makes sharing links more appealing as you can have a preview of the page before you visit it.
We also:
added links to our Diaspora and Pleroma accounts in the footer.
renamed our web page to remove the .html extension while browsing. The old URLs should be seamlessly redirected to avoid dead links from search engine results.
Services
As announced earlier, we now provide microblogging on Nomagic, using Pleroma. The documentation has been created on the wiki, and since then we found some issues regarding commenting on Peertube using your Pleroma account (more info on this in the wiki).
Matrix Synapse got a major update, with better privacy by default (though we were already using our own Identity Server). We will be looking at setting up our own key server in the upcoming month.
Application upgrades
The following applications were upgraded to their latest stable version this month:
Backend
N/A
Bugs and issues
Peertube: we opened an issue regarding Peertube search filters (no results when 2 or more language preferences active). The issue has been addressed and should be part of the next release.
Our K9-Mail issue has been referenced, and we provided additional info. Currently our workaround is still in place on the server, so you should not expect to be impacted by this bug.
Coming up
Our road map now includes:
Short-term objectives
Update our Matrix Web client portal.
Move our MTA-STS policy to a production profile.
Complete OCSP stapling for all Websites
Mid-term objectives
Update all servers to the latest release.
Keep on implementing security/privacy policies
Long-term objectives
implementing Single Sign-On (SSO) so that Nomagic users won't have to authenticate on each and every service in their Web browser.
---
Icons made by mavadee from www.flaticon.com is licensed by CC 3.0 BY